Protect: protection against SMS fraud
If you sign up to a website using your mobile phone or send an SMS to a mobile number, you may become a victim of fraud. You may find that even after sending a payment, you don't receive the promised service, or that a small amount is regularly debited from your account. Yandex Browser tracks and blocks fraudulent sites in the Protect integrated security system.
Blocking suspicious sites
Yandex tracks phishing sites and sites that may be used by scammers. The addresses of such sites are stored in a special database. If you try to visit a site that may be linked to SMS fraud, Yandex Browser blocks the potentially dangerous page and informs you about it: a message will appear in the browser window and the

icon in the SmartBox.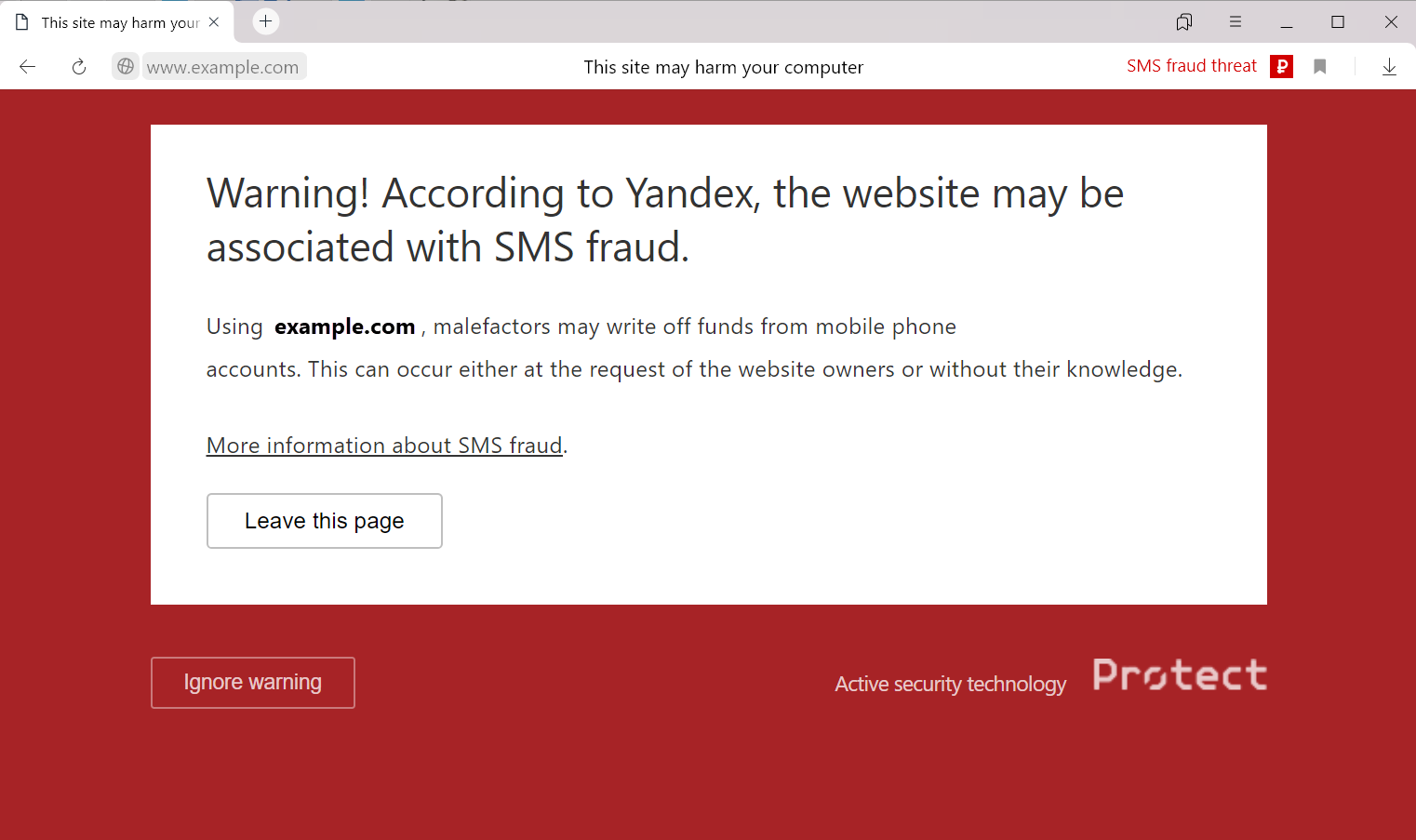 Attention.
We recommend that you think carefully before visiting such a site. Visiting these types of resources can be dangerous for the following reasons:
If you do, you will be asked to perform actions that will result in money being debited from your mobile phone account. There might not be a message warning you that a fee is charged for using the service, or the message may be difficult to find.

It is likely that you will not receive the services you paid for at all or they will not be delivered exactly as promised.
Examples of SMS fraud
The situations described below may occur if you visit fraudulent or infected sites (please note that a website that was secure yesterday may be infected today). They may also be the result of malware on your computer.
Attention.
Malware may intercept information that you enter on websites and send it to hackers. Therefore, we strongly recommend using antivirus software.
Registration on a website via your mobile phone

The site asks you to enter your mobile phone number under various pretexts. For example, the site asks for your number to register on the site or to prove that you are not a robot, to activate software updates, to prevent your social network account from being blocked, and so on.

You receive an activation code on your phone and are asked to enter it on the site.

By entering the activation code, you activate a paid subscription.

A small amount of money starts being deducted from your phone account every day, usually 20-30 rubles.

Sending a message from your phone to a mobile number

You are asked to send a text message (SMS) from your mobile phone to a number shown on the site.

You send the text message. The cost of sending the message is higher than the normal rate to send an SMS. In addition, the website may not contain any information on prices, or this information is hidden away in an unnoticeable location on the site.

Immediately after the SMS is sent to a mobile telephone number, your mobile phone account will be charged a certain amount, usually 100-200 rubles. In some cases, money starts being withdrawn on a daily basis.
Additional security measures
The Protect system's database of infected and suspicious websites contains more than 80,000 websites. However, some websites used by scammers might not be included in the database if there has been no complaints about them yet. Take the following precautions to protect yourself from hackers:
Do not enter your mobile phone number on sites that you do not completely trust.

Do not send messages from your phone to numbers shown on websites.

Avoid transferring any

personal data

or data required for e-payments (bank card numbers, PIN codes etc.).
Disable protection
Attention.
If you want to disable protection against SMS fraud, you will have to completely disable protection against malware and malicious sites in the browser. We strongly recommend that you don't do this.
To disable SMS fraud protection:
Tap .

Go to the

Security

tab at the top of the page.

In the

Threat security

section, disable the

Run security checks on websites and downloaded files

option.
Follow the same steps to re-enable SMS fraud protection.
If Yandex blocks your website
If you think that your website was mistakenly included in the list of websites suspected of SMS fraud, please follow the instructions on the SMS fraud page.